impressions
23/02/2020
For the past ten years I have occasionally dabbled with abstract digital photography, using a combination of slow shutter speeds, intentional camera movement (ICM) or occasionally post processing trickery. A new dimension was added when I purchased my current camera seven years ago, which has a multiple exposure feature whereby a series of exposures are taken and then blended in camera to give one final resultant image. The most common media example of this feature tends to be a shot of a golfer's swing with the club captured at different points, or multiple images of a snowboarder or skier in the air. I soon realised that this feature also had potential for abstraction and at various times since have experimented using ordinary street scenes, with varying degrees of success. However, my own measure of success did eventually come and in the past couple of years I've had a few images published in magazines and also picked up a couple of awards in the Guild Of Photographers image of the month (where images are judged against a standard rather than other entrants work). Although I was happy with these images that I was producing I felt that there was room to improve and develop, and in recent months this has occurred mainly by further experimentation and refinement coupled with a happy accident. I've now developed the technique to the point that I'm satisfied with the results enough to end the experimentation and concentrate on developing this as a unique style. My latest efforts have again picked up a couple of awards at the Guild IOM, but more importantly have also gained positive peer critique on the various platforms where I share my work. To this end I've dedicated a section of the web site to impressionist images and will continue to populate this as time goes on. The old landscape images have been removed, not in any sort of denial of the past but it's time to concentrate on the images that are currently driving me on - street abstraction, impressionism and candids. Not everyone's cup of tea but that's why it's worth doing.
life through a bus window
12/01/2020
I've added a new section to the website containing images that have been taken through bus windows. That might seem a strange subject to some, however I love the colours and light in these types of images and they seem popular on my Instagram feed. This style is not my own idea, nothing is new in photography! The images are all taken in heavy rain, usually in low light conditions with the camera set to daylight white balance which gives a very rich colour pallette. Through the steamed up windows we can see passengers lost in thought, reading or in deep conversation, and usually someone has wiped enough condensation away to give a clearer glimpse into this strange world. Hope you like them!
vintage glass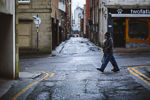 12/12/2019
A few months ago I bought a small mirrorless camera, a Lumix GX9 to be precise. It's full of wonderful features that I'll never use, but I thought it would make a decent travel camera as the DSLR kit is getting a bit heavy these days. It's also ideal for street photography, if the blurb is to be believed. To be fair it is a decent camera, and is certainly useful for street photography but will never replace the DSLR for the simple reason that it's not weather sealed, and you may see from my gallery that I take a lot of shots in heavy rain! However, the kit zoom lens is almost the same focal length as that used as standard on my DSLR, so this has enabled me to start using some of the Canon prime lenses that I've collected over the years. There's a 20mm, a 50mm, an 85mm and a recently added 28mm. All focal lengths that are covered by the 24-105L, but these primes are faster and have wonderful 'qualities' (aka flaws) when used wide open. They also all cost around 200 quid second hand for an excellent quality specimen, so good value indeed. Originally made for film, they seem to complement the Kodachrome look that I achieve in Lightroom post processing. I'm finally getting the look on my street images that I've been after for a while.
Happy snapping!
demolition derby
24/11/2019
This weekend there were road closures in Glasgow city centre around Argyle Street and York Street as another old building was torn down to make way for a shiny new development. The picture here shows this process a few hours underway, the building interior already exposed showing some great colours even in the morning overcast light. Elsewhere in the gallery there's an image taken last weekend called 'Downhill From Here', showing a girl running down one of the streets leading to the demolition area, with old buildings reflected in the glass of more recent developments. That particular picture and the others taken that morning were enhanced by the strong morning sunlight being reflected off of the new developments and onto the old sandstone, giving it a lovely warm colour (which I've enhanced slightly in post processing). Whether both types of structure can happily co-exist is a debate for another day, but at least those highly reflective new developments have some unintended good use.
definitely no mean city
16/11/2019
Most of my images shown here and also posted on my Instagram feed are taken in Glasgow. It is a fantastic city for photography and I'm fortunate to live within a short driving distance that allows a couple of trips a week, time permitting. I've spent many hours wandering around the streets and back lanes of the city centre and west end, and never felt the need to hide the camera for safety reasons, in fact I've only been approached a few times in the pursuit of street photography, but never any hostility. That's not to say that it's all rosy, there's certainly areas of the city that I wouldn't venture to, but then I've no need to anyway.
This image was taken early on a Sunday morning in Argyle Street, and could be interpreted as presenting a typical view of Glasgow (if the mainstream media version is to be believed). But it's not, it's just a funny street scene that could have been taken anywhere in the UK. However, elsewhere in the UK it may have been a bit more risky getting a shot so close and with eye contact. If you've never been to Glasgow then add it to your tick list. It's also worth having a look at Glasgow by Raymond Depardon
steamy windows
24/10/2019
This summer I've produced quite a lot of images where the subject is behind glass covered with either rain or condensation, bus and shop windows usually. This is nothing new, indeed nothing in photography is new - Saul Leiter was doing this in the nineteen-fifties (and much better than me!). However, that doesn't mean that you can't put your own slant on it, the scope for this type of abstraction is endless and my own favourites are a blend of form and colour. To see some great examples of this type of work look at the hashtag #dpsp_rainshots on Instagram.
colour
13/10/2019
This year I've rediscovered the beauty of colour images, particularly those images taken in the mid 20th century that appeared in the photographic press that I poured over at school - Life, The Sunday Times magazine etc, and more recently in books that I've purchased such as Modern Color by Fred Herzog and a couple of books showing the Depression documentary images taken in the USA by the Farm Security Administration project. Most of the images were shot in Kodachrome, a slide film that is no longer available but which had particularly vibrant and warm colours. This film was new at the time of the FSA project, when serious photography was still presented in monochrome, so a lot of the images taken were 'off the clock'.
I've played around with editing my own images in an effort to find something similar to the Kodachrome look, albeit very unsuccessfully. That was until I discovered a couple of Lightroom presets which give the Kodachrome colour effect, and do it very well. I've never been very good at restraint, so the difficulty now is to not use it on every image!
Try Googling images by Fred Herzog and New Deal Photography. Until next time, cheers!
long time coming
25/09/2019
I've been meaning to add this blog to the website for a while but like most things in life have never quite got around to it - until now! The website is now getting a lot of visits so some explanation of what's going on with the pictures is probably overdue, especially as I tend not to add comments to the images posted on my Instagram feed, and there's nothing here other than the pictures.
First, I tend to upload new pictures every few weeks. Also, there is a finite number of images that I'll show, so the new ones will replace existing images, by age rather than quality. There is no archive facility so the website is essentially a snapshot in time spanning generally a few months.
Second, the vast majority of images are shot on the streets, even the abstracts which are created in the camera rather than using post processing. I don't do many landscapes now and any nature photography is confined to shots of birds in the back garden (more of which I'll ramble on about another day). So at some point in the future the word 'landscape' will go from the third section.
Although most of the images include members of the public, I don't like any interaction with the camera so I don't do street portraits at all - I prefer to capture observer style street scenes as the viewer would see them, with a bit of motion blur for good measure.
That's it for now, until the next post cheers!